Lazy day. Spending the afternoon here in Coffee Bean and Tea Leaf, munching on chicago cheesecake, drinking my favorite cup of apple cinnamon tea and listening to some of my favorite artists.
Whatever your music preferences are, I'm pretty sure you love music just as much as I do. I'm always on the lookout for good music. I've made it a habit of reading album reviews, browsing through people's blogs and downloading mixed tapes they've created (if they have any). I've created some of my own (you can check them out
here
). Recently, I'm loving
She and Him
,
Warpaint
and
Ellie Goulding
.
Lungs; Florence and the Machine
Cosmic Love
,
Rabbit Heart (Raise It Up)
and
Hurricane Drunk
are some of the tracks which I constantly put on repeat. There is something about Florence's voice that makes you want to listen to her all the time.
For Emma, Forever Ago; Bon Iver
I first heard of
Bon Iver
from Skins soundtrack, when Creature Fear was featured in one of the episodes in Series 3. I'm recently all over his newest track Calgary, which you can download for free
here
. I remembered when I heard Skinny Love, I instantly fell in love with the lyrics. I have about four covers and the original song on my iPod.
Ellie Goulding
is an artist from UK. I discovered her through one of the mixtapes I've downloaded at bluebird vintage and since I loved her song,
Starry Eyed
, so much, I downloaded her album
Lights
. Worth it.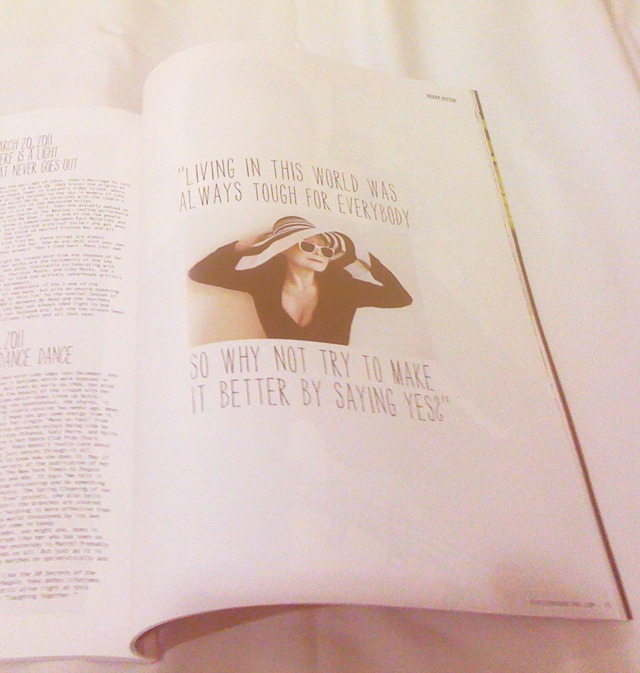 The wonderful Yoko Ono's in
Status Magazine
this month! It's never too late to grab a copy. :)