Rollercoaster. That's what it was like for me in the past few weeks. My days were full of ups and downs; I drag myself out of bed each and every afternoon (because I sleep all morning) and try to move on with my day. My body clock refuses to cooperate with me whenever I try to reset my sleeping habits. I try to blame it on the sucky weather we've had, but I think it's just insomnia.
Last Saturday, Sir Noel came back from his trip and he briefed us about our activities for Fashion Week and a photoshoot this week for a certain brand. I can't wait! :)
(photos from Kisty)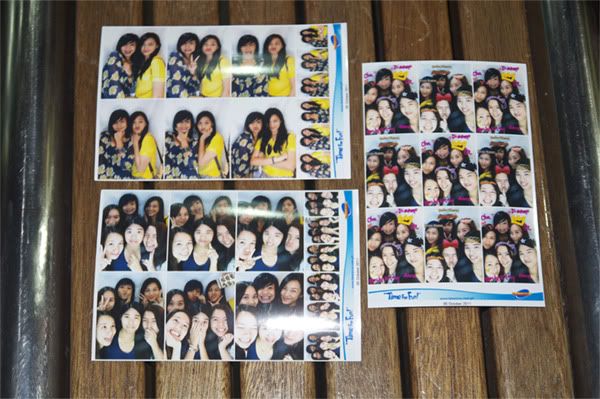 (THE GIRLS! Char, Dianne, Anna, Kisty, me, Ghen, and Jessa, the one who took the photo hehe)
*also look at how it's obvious that I lack sleep*
My friend Kisty is leaving for Singapore today (*tears*) so the girls and I had a little date with her last week. I had such a lovely time with them. We went to see What's Your Number, a movie starring Anna Faris and Chris Evans. The plotline was a bit predictable but nonetheless, it was a good movie that all of us enjoyed. :)
Aaaand we made Kisty eat Hello Panda! Achievement! hohoho 8D
(*video soon!)
Char took outfit shots of me because she reckons my lookbook should have something in it.
(photos by Char, a girl I would fangirl over forever because of her killer height and stunning looks haha)
(oversized cardigan from the male kids' section in SM department store, tank top from F&H, high wasted shorts with gold studs from Zara, charms bracelet from Just G, bag from some store in Tiendesitas, purple tights from Greenhills and shoes from Forever 21)
Yesterday, Dianne, Kisty and I went to Hang Ten's blogger event in Mall of Asia. Kisty invited me to go with her and Dianne brought along a reader of hers, Belle. We played the Human Bingo, and styled mannequins! I remembered my Bayo days, suddenly. David and Lissa were the ones who won the competition (no surprises there, really). By the end of the program, food and drinks were served and all of the bloggers bonded. I saw some of my favorite bloggers but my usual awkward self was too shy to approach any of them. I promise to muster up the courage next time.
(photo from Dianne)
Our baby for the day, Kyle the mannequin.
(my only photos because silly me didn't bring a cam) :(
PS. Current writing on my wrist:
I love cupcakes.

How was your week? :)