Hello! How is everyone? :) I got an overwhelming amount of page hits over the weekend, which was quite surprising. I'm so grateful for all of you. Thank you so much. <3 I'm quite tempted to send each and every single one of you cupcakes, as I'm sure all of you love cupcakes (who doesn't love cupcakes? hm?), but I'm low on cash at the moment. In the mean time, I'm sending all my love and hugs. :)
Anyway, my lovely friend
Erika
hosted the Starbucks Cheer Party held in the Fort a few days ago.
Jonver
,
Tatie
, Marc, and I all went to support her. :) It was the perfect event for a coffee junkie like me: a fun night of music, laughs, photobooth, trivia games, cookies, and lots (really lots) of coffee! Thank you guys for a marvelous night. :)
As usual, I promised my mom I wouldn't stay out that late, but I got dragged along to the event in Prive by my good (*hehe*) friends. No regrets, though, after all I did have fun, but I was quivering with fear the entire time we were there. Also, I was too shy to approach and interact with people again. I promise to try better next time. How some people get to socialize so easily is beyond me. ;__; I mostly spent the evening in one corner, being an awkward potato, thinking of ways on how I was going to get murdered the second I get home. Thankfully, my beloved mother found it in her heart to not stone me to death, and me, being the terrible liar daughter, ended up telling her everything--that I went to Prive at the last minute because it was a bit late and I just didn't want to go home alone. As much as I'd like blame it to the guilt that haunted me like plague and consumed my soul like a hungry beast that night, it was most probably because of the fact that I don't like lying to my mom. I have this strangest sensation that I'm aging backwards or that I'm probably a 17 year old girl forever.

Special shout out: I want to thank Jonver, who was such a sweetheart to make sure I got home safely. I love you bb. :*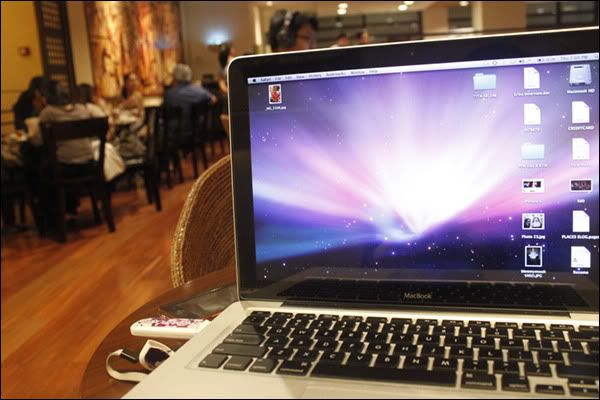 Tatie and I went a bit too early to work. She worked on her thesis (and some other things *cough*) and I worked on some photos, outfit sets, and my story. :)
The beautiful hosts! :)
(Here goes Cariza again with her people watching hobby) I didn't know what made me so fascinated about them, haha, but they seemed so interesting. I made up a random conversation in my head about what they could be possibly talking about, which I'll probably (or probably not) include in my story. /creepycarizamode: on
Coffee heaven! We were all intoxicated with so much caffeine after.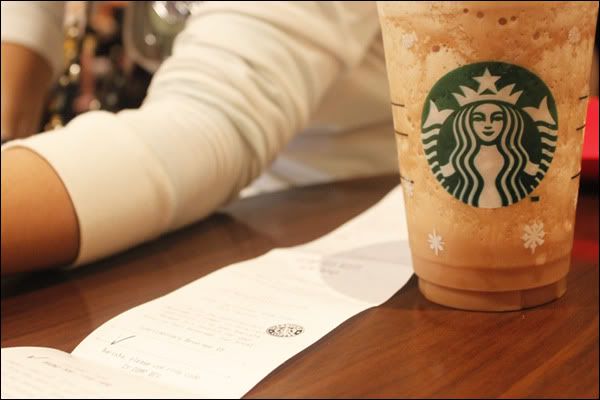 And we even won a complimentary drink for the online survey. Lots of happy luck that night! We were blessed with the happy luck fairy. <3
Erika is so cute in her uniform. :3 You were a wonderful host, bb!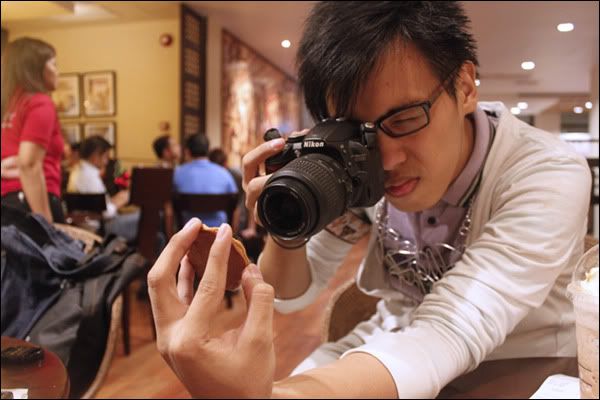 Jonver in action haha. /tempted to put a national geographic documentary sort of comment in here but I do not want to get shot hoho 8D
Angels all around giving out food. *cue hallelujah chorus*
The night is not complete without photos from the Photobooth! Yay!
PS. Just found out that my photo in
Style Bible
from the Freeway x Manansala event is now up. Omg! jhajashajhaaadkh yaaaaaay! First time ever! :") I'm in a crowded place right now so I couldn't scream my heart out with so much joy, but I swear I'll be jumping like a five year old when I get home. It's overwhelming. Thank you so much, StyleBible! And thank you Freeway! I'm so happy and grateful. <3
PSS. Bench is going to be featured in ANTM: All Stars! I'm very proud of Bench, Georgina and to my fashion styling teacher, Sir Noel! Also proud of Michael Cinco who will be featured in the last episode! He's phenomenal. Please tune into ANTM and watch. Congratulations! :) <3
I love how everything is going so well this November. Happy month!