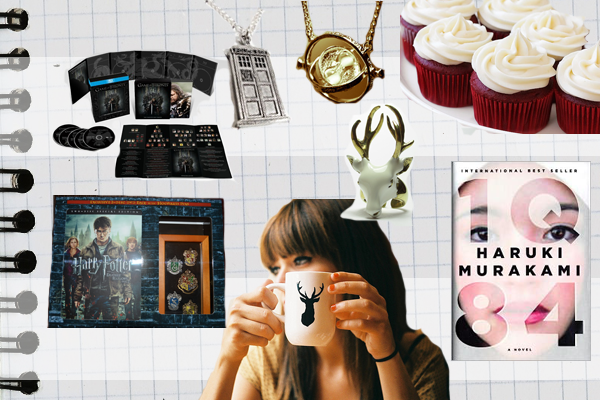 (Game of Thrones set, TARDIS necklace, Time Turner Necklace, Red Velvet Cupcakes,
Harry Potter DVD Set + House Pins, Stag Ring, Stag Mug, 1Q84 by Haruki Murakami)
Woes aside, I've decided to look for possible things my heart could yearn for this Christmas. I saw that Harry Potter complete DVD set with all the House pins in Fullybooked when my mom and I passed by a few days ago, but I felt my heart shatter into pieces when I saw the price tag. I honestly don't know what I really want (hence, the stupid list). I think I'll already be okay with a new book and journal, (I currently have my eyes on Complete this Book by Keri Smith too) or anything with a stag on it.
On a slightly related note, Haruki Murakami's latest book is out! I think I'll buy it right after as I get my hands on Chasing Brooklyn. I have a lot of new additions to my reading list and I'm immensely happy; surrounding myself with books is the best therapy for what I am going through at the moment.
What do you wish for this Christmas? :)