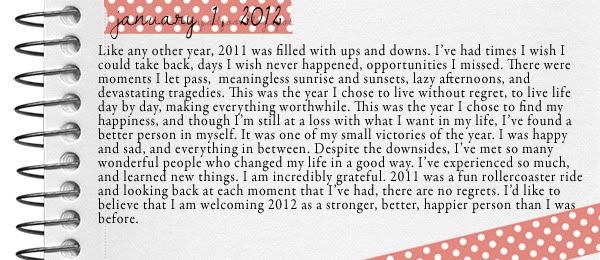 Some things that I learned this year:
It is better to lose an argument than to lose a friend.
Waiting for something to happen is a waste of time.
A little positivity goes a long way.
When in doubt, write.
When in doubt, read.
There is always room for change.
There are always people willing to help you and understand you, even when you think you're alone.
Beauty is found even in the simplest things.
Happiness is contagious.
A cup of coffee is a life saver.
There is no such thing as ordinary, if you make life extraordinary.
Dream big.
This is a letter to my future self. It is kept in a box filled with hopes and dreams, snapshots and memories of 2011, which I would open next year. I have no resolutions for 2012, as I usually don't keep them anyway. I can only hope that it would be wonderful to me, like 2011 was.
Happy New Year, everyone! :)