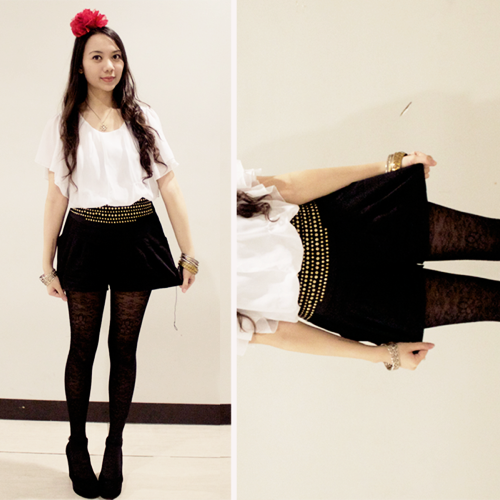 white dress worn as top: thrifed; forever faithful high waisted shorts with gold studs: Zara; black lace tights: random find from the darkest corners of my mom's closet (and now it's mine *evil laugh*); gold bangles: everywhere; rose headband: a'postrophe
/Funnily enough, this outfit somehow reminds me of Snow White.

but
there is beauty in all the broken;
in the ways they cope, hide secrets,
build walls and masks,
and disappear for so long.
perhaps, I think,
that's exactly what's wrong with me.
I'm in love with sadness,
I'm in love with misery.
though I could swim for the surface,
I'd rather drown and fade;
let the waves swallow me,
and take me somewhere far away.

I could not be saved.
I do not want to be.
For someone who is at a loss for words on most days, I've been writing so much lately. It must be the thought of my birthday coming up, which I dread more than Snape feels for shampoo. I fear aging; how I wish I was 17 forever. But of course, I was 17 two years ago, and this year I'm turning 20. It's something I'm definitely not looking forward to: growing up. It means taking more responsibilities, waking up to the reality that youth can't last, and that I have to figure out what to do with my life eventually. But alas, I'm one who lives in dreams. I dwell into my fantasies a bit too much for my own good, and though the doors towards the real world are wide open and I know I have to go in eventually, I can't help but want to stay in Neverland. Hopeless, that's what I am. I don't know what to do with myself.
All my other writings are being dumped on my tumblr (some lines on twitter), I hope you guys aren't sick of them yet.
So... how have you been? :)