The High Street Fashion show held in Trinoma last Saturday for Style Origin featured more than twenty brands, including top names like Topshop, Topman, Zara, Promod, Gap, Mango, Dorothy Perkins and more. I could only imagine the chaos going on backstage during the show (kudos to the stylists and dressers for a job well done!). Nevertheless, I'm thankful my boss was kind and allowed me to bring some of my friends; I honestly was half terrified of attending alone and looking like yet another turtle in a pack of social butterflies. My friends enjoyed the show, to say that it was amazing wouldn't possibly sum up all of our feelings, and we each have our top favorite looks (and moments hehe) from the runway.

Cesca as the beautiful, fun host for the night

Bamboo performs as the models walk the runway

Joseph Marco clad in a stunning blazer. I specifically adore the details.

Enchong Dee in Sassa Jimenez

Enchong, Cesca, and Joseph
Nautical and lace: my fashion kryptonite. I'd definitely love to wear both of these. *eyes sparkling* There was a ribbon detail at the back of the nautical dress (left) which I adore so much; I failed to take a photo of it though since I was too mesmerized.
I love how everything Samantha wears looks so effortlessly chic.
The comeback of the roaring 20s. I'm in love with that flapper dress.
I spent the evening with my dear friends Mon,
Jonver
and
Jonard
. They helped me cover the event for Phil Star, and gave my awkward self a bit of a tiny push to interview people for
Style Spotting
. Jonver was a bit of my mentor that night, he's always so used in attending events and tweaking his camera, so he was giving me a few tips here and there. (Please check out their blogs
here
and
here
).
I also met my fellow Phil Star intern and Loki Avengers fan,
Carissa
. I find it quite witty how our names are almost similar. She takes really great photos, too! Hello, Carissa! :)
After a few drinks and dinner courtesy of Italianni's, Jonver took us to the famous
Moonleaf
Maginhawa for a little after party of our own. My first Moonleaf drink definitely did not disappoint, and to be honest, I have been craving for it ever since. Moonleaf, what have you done?
(Speaking of Moonleaf, they're holding a party this Saturday! Hope to see you there!)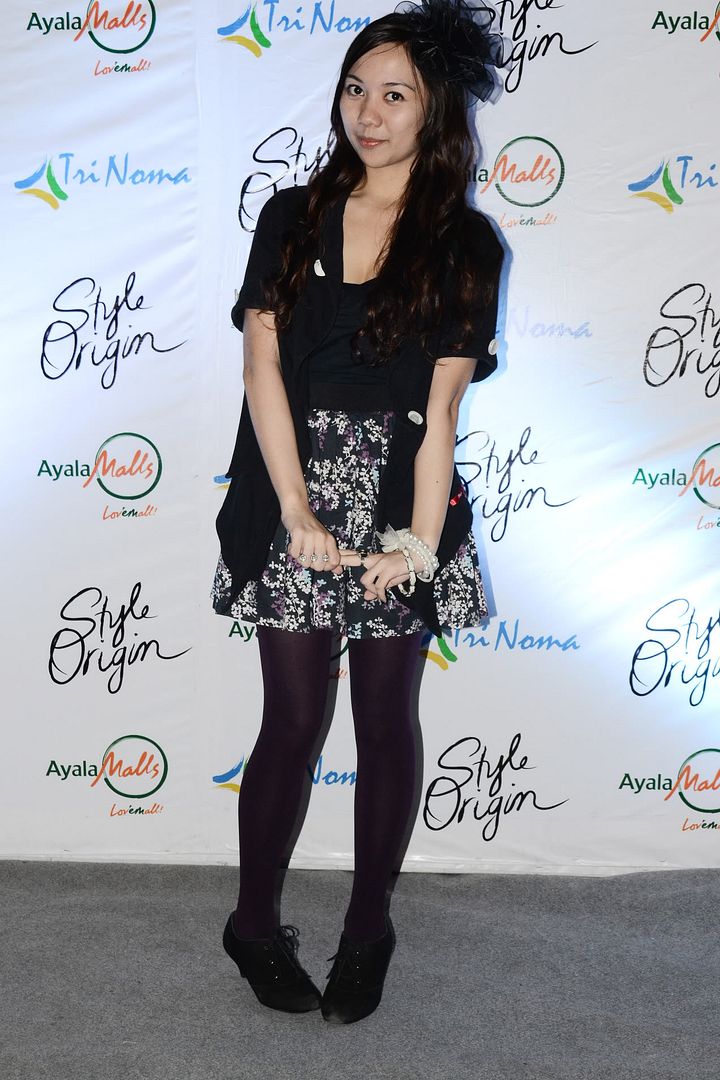 black corset from Sparkle Couture; black blazer from Bayo; skirt from Just G; purple tights; favorite oxfords forever
Photo from Jonver. :)

With Mon :)



Ending this post with an obligatory group photo, yay! Thanks, Jonard! :)
Current writing on my wrist as I write this blog post:
passion
.
PS. On another note, Mon and I went thrift store shopping yesterday! It was an adventure for both of us, I think, and we're proud to say that our first thrift-store shopping attempt was successful. I'll post our finds (and maybe more, since we're planning of going on yet another trip) soon! :)