I think, whether big or small, we are all made of dreams. I often find myself lost in mine each day, trapped in the corners of my thoughts (or as I like to call it, 'the rabbit hole'), always wishing for something different to happen. I was taught to dream big when I was young; like everyone else, I played silly pretend games of house, doctor, teacher, explorers with my siblings and childhood friends. Whenever we were asked what we wanted to be we would always tell grown ups that we'd want to become an astronaut, a pilot, or perhaps a fireman with proud smiles and beaming chests.
However, reality sunk in as we grew older. Not all of us could become presidents, sky divers, nurses. We would think that some dreams are meant to be just dreams, that we should settle for something safer, more practical. It is exactly what I did in my senior days in high school when we were practically forced to choose a course on what to take in college. My dreams, however, were never practical.
Applications always seemed too rushed to me; I ended up choosing something that seemed flexible, thinking that I could always figure out everything else once I graduate. But life doesn't work that way, I guess. I ended up taking something because it was almost spoonfed to me, that I should be like this and like that. When I met people who seemed happy with their lives doing the things they love doing the most, I was envious and full of doubts that medicine and psychology may not be the right path for me. I ended up being a huge wishful dreamer, thinking of what ifs and what could've beens.
Right now, I am still made of dreams big and small, but I think my only goal in life is to be happy. No matter what I end up doing, I just want to go to sleep at night thinking, I'm living my life to the fullest. I dream of traveling and writing, of taking photos of places and people, of being in the fashion industry. I dream of owning a bookcafe or a studio apartment in Paris or London, of eating macarons and reading to my heart's content. I dream of soft rainy days wherein I do nothing but be in bed all day and blog, of continuing to dance ballet, of being fluent in French, of being in the Wizarding World of Harry Potter. We all have dreams that change and grow over time, dreams that we had to let go because 'they weren't enough' or 'they are too much'. But there is no crime in wanting what you want.
So weeks ago, I asked my followers on tumblr what their biggest dreams are at this point in their lives, as I shared mine. These are their replies. Reachable or not, it's nice to know what you want to go for in life. After all, we all want to be happy. :)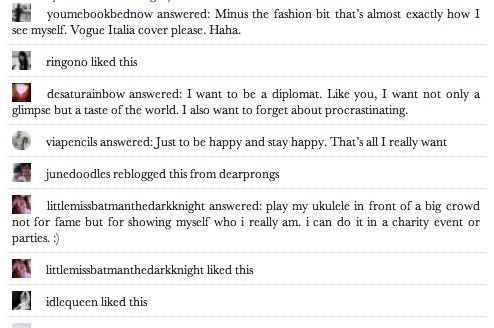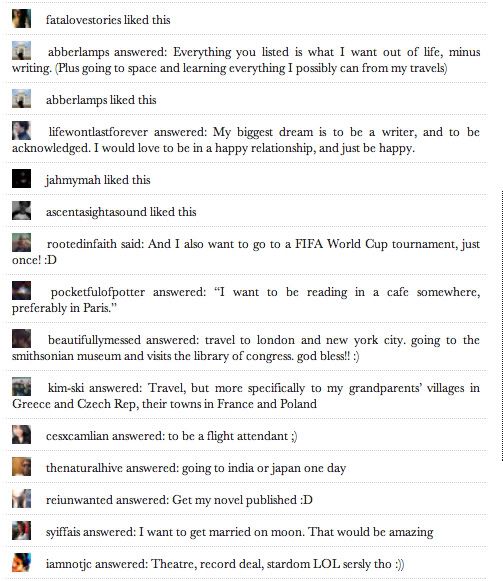 Maybe you can also share your dreams? I'd love to hear about them! :)