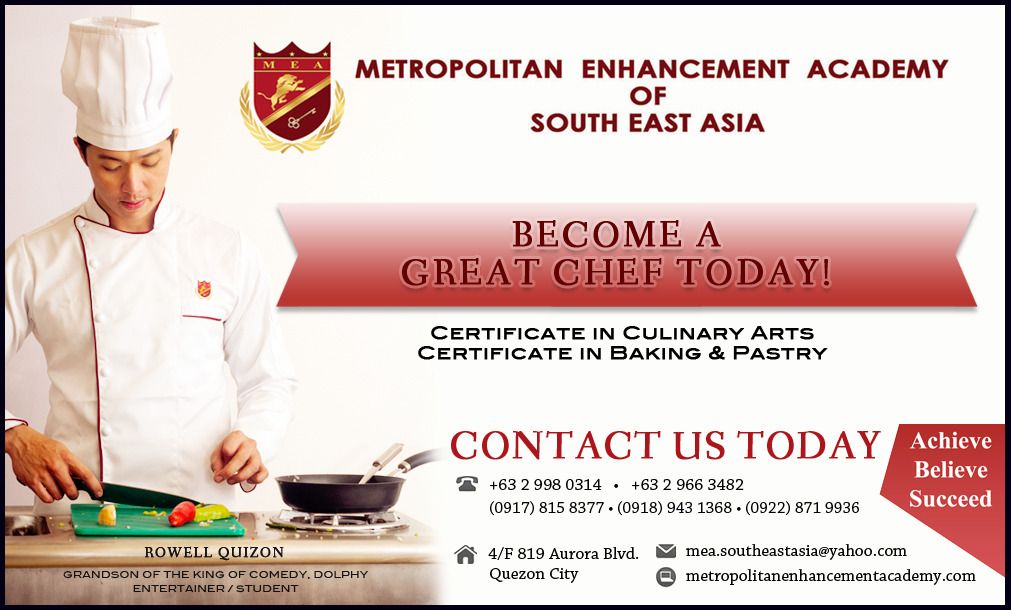 Metropolitan Enhancement Academy invites you to be a part of their growing community!
With what started off as a mere joke, the founder had a motive of giving future chefs a better experience of what she endured in another institution, turning this small idea into a big reality. The school currently offers basic and advance courses in culinary arts for both local and international cuisines, and extensive training in cakes and pastries. However, they also plan to soon expand their curriculum to sewing, hospitality, and other livelihood programs. The MEA offers a 10-month program that is intensively prepared to cover everything one usually acquires in 2-year programs, giving its students the benefit to gain knowledge and skills in a shorter period of time and start early in their culinary careers. The trainers in the school are definitely world-class, as one of them was even a contender from America's Top Chef. While the school only opts to give students the best of education, the cost of studying in MEA is also reasonably priced, which includes books, uniforms, and other materials students will need throughout the course.
What makes Metropolitan Enhancement Academy different?
MEA offers a 10-month course, 3-month course, 1-month course, and 6-day short courses, both in which could easily fit in anyone's busy schedules. With MEA, one learns all cuisines and acquire skills adaptively in its 10-month intensive course.
Second, while other culinary schools often do their work in groups due to lack of equipments, MEA provides students their own materials, assuring that each and every student does their work individually. This allows the student to master all skills and learn with the fullest of their potential to become the best chef there is.
Lastly, the school provides world class education at a very low tuition fee. Most culinary schools are expensive, and that usually doesn't include miscellaneous fees needed for books and uniform that students are going to use. Enrolling in MEA is hassle-free, as the rate of the tuition fee already covers books, uniforms, and other materials that students may need.
The Metropolitan Enhancement Academy is located at the 4th floor, #819 Aurora Boulevard corner Lantana St., Immaculate Concepcion, Cubao, Quezon City.
Contact Details:
+63 2 966 3482
+63 922 871 9936 / + 63 917 815 8377 / + 63 918 943 1368
Email: mea.southeastasia@yahoo.com
Official Websites:
http://metropolitanenhancementacademy.com
http://meaofsea.tumblr.com
http://www.facebook.com/MEAOFSEA
All classrooms are air-conditioned